MORE THAN AN ENDURANCE RIDE . . . working for the revival of the Great Horse Culture of the Lakota
---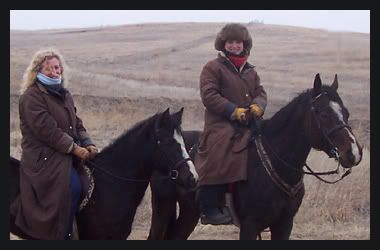 Porcupine, SD: Laurie with Masquerade and Leslie with Nosferatu (Jet)
Chief Big Foot Memorial Ride 2006 . . . 130 to 160 riders
Accepting the great honor of an invitation from the Lakota to participate in the 20th Anniversary Chief Big Foot Memorial Ride.
IntoThe Badlands
On December 18th 2006, Laurie and Leslie embark with Flying Nosferatu, Flying Masquerade, and Flying Bandalore
from Cheyenne River Reservation in Bridger, SD.
Little Man with Flying Bandalore and Laurie with Flying Masquerade (December 23th)
Joining with 130 to 160 Lakota riders for days retracing the trail taken by Chief Big Foot and his band in the winter of 1890, the ride culminated at a ceremonial gather of the Lakota at the site of the 1890 Wounded Knee Massacre on Pine Ridge Reservation on December 25th.
(Above) Traversing above the Pine Ridge Reservation Badlands
More than a memorial tribute, the ride is viewed by the Lakota as a strong symbolic spirit ride that revives their cultural spirit and instills in the youth a new respect for their cultural identity as Native people.

(Above 2nd horse) Leslie & Jet heading toward The Badlands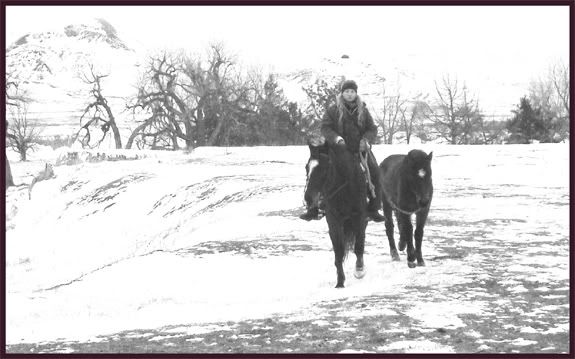 Leslie, Nosferatu (Jet), and Bandalore --New Years Eve 2006 Badlands, SD
To learn more about Chief Big Foot go to http://www.woundedkneemuseum.org