2001 Welsh grey mare. Stands at about 12.1 now and will mature to be a top-end small. Great granddaughter of Farnley Lustre and daughter of legendary Shenandoah Gamekeeper.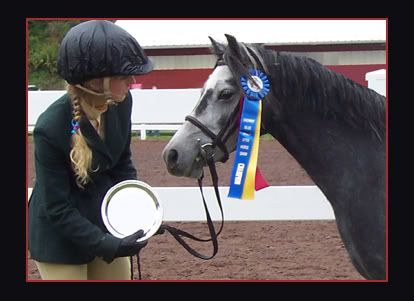 NEWSFLASH: Sprite won Champion September 25th 2006 at her debut show, going gorgeous in her flat and overfences class in Adult Equitation.
She performed wonderfully against full-sized horses (Thoroughbreds and Warmbloods) and won the championship:
Blue ribbon flat work

Blue ribbon form over unfamiliar/never before seen walls, coups and rails

Blue ribbon auto swapped leads.
Sprite has also jumped event courses with confidence, without balking or hesitation including the following obstacles:
Trees logs

Water obstacles

Ditches

Stone walls
She'll jump anything you put her to as was demonstrated in her wins.
She's also been ridden extensively on trails and in open fields bareback with simply a halter and lead.
She's very responsible and sweet.
She will dominate any discipline, be it hunter, dressage, eventing or simply an all-around versatile children's pony.
Pretty is as pretty does. Temperament IS paramount.
At Flying Leap Farm, our goal is to provide your child and family a well-trained, well-bred, kind-tempered pony that will provide an enjoyable experience. Whether your goals are enjoyable trail rides, family outings, or Year-end National Champion Horse of the Year awards, it should all start with a pony that will make it fun for all concerned.
The first essential element is a willing, "let's do it" team attitude in your child's pony.